2021 INFINITI Q50: AutoPacific 2021 Vehicle Satisfaction Award | Bert Ogden INFINITI, Edinburg, TX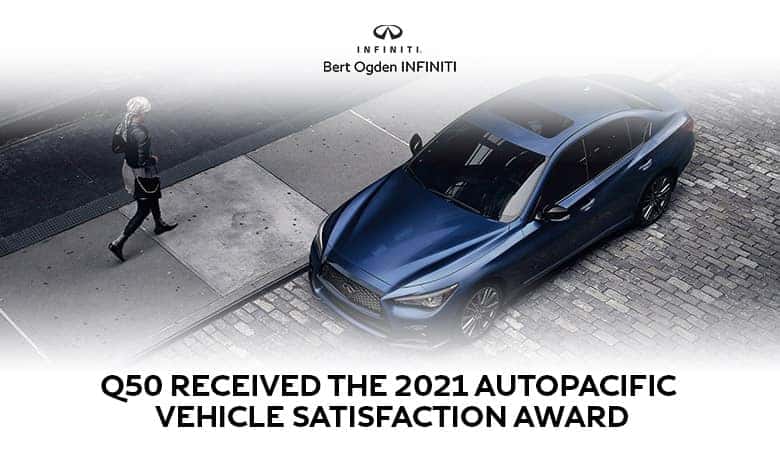 The 2021 INFINITI Q50 is a sleek and sporty luxury sedan, and we find that customers are always satisfied with it when they get behind the wheel here at Bert Ogden INFINITI in Edinburg, Texas. Now the Q50 has the title to prove it.
Earlier this year, AutoPacific awarded the new INFINITI Q50 its Vehicle Satisfaction Award in the Standard Luxury Car Category. This makes the Q50 the first sports sedan ever to take home the gold medal in this category.
Determining A Winner
In choosing the winning vehicles in each of the segments for which it doles out awards, AutoPacific relies on survey responses from nearly 90,000 new car, SUV, and truck drivers. Survey questions get to the heart of how satisfied said drivers are with their new vehicles.
This survey is extensive, measuring driver satisfaction with 36 unique elements of a vehicle. These include interior design, driving performance, usability, standard features, and seating comfort.
Why The 2021 INFINITI Q50 Won
"We are honored to have the Q50 win this AutoPacific Vehicle Satisfaction Award," remarked Jeff Pope, Group Vice President of INFINITI Americas. "For model-year 2021, our sports sedan is fueled for passionate drivers looking for something as distinctive as they are. We are proud and honored to have the Q50 recognized by its owners."
Specifically, new owners of the Q50 rated better than or equal to its competitors in 27 out of 36 categories. Some of the hallmarks of the 2021 INFINITI Q50 include the potent twin-turbo V6 engine that allows for quick and steady acceleration. Owners also lauded the INFINITI Q50 for its advanced safety technologies, front seat comfort, exterior styling, and braking power. Other key attributes included reliability, seat durability, safety ratings, visibility, and handling.
---
You can test-drive and purchase the 2021 INFINITI Q50 at Bert Ogden INFINITI in Edinburg, Texas