2022 INFINITI QX60 | Edinburg, TX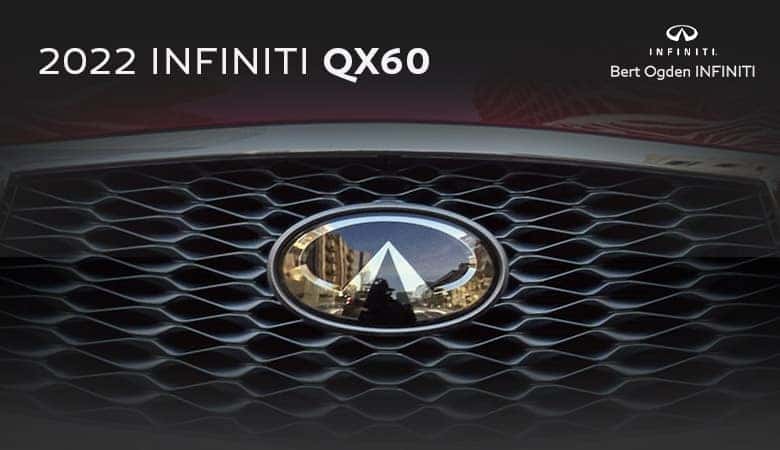 The 2022 INFINITI QX60 has undergone extreme testing spanning thousands of hours, leading to the most potent INFINITI QX60 SUV to date. If you are looking for an elegant yet powerful SUV for your family, this is the SUV for you.
In response to the COVID-19 pandemic, Bert Ogden INFINITI has made it easy to order your new INFINITI QX60 entirely online. Just use our Express Checkout online ordering system and schedule at-home delivery; you never have to set foot in our dealership.
Increased towing power
The 2022 QX60 takes its motivation from a 3.5-liter V6 engine that cranks out 295 horsepower. Mated to a brand new nine-speed automatic transmission, this engine enables the INFINITI QX60 to tow up to 6,000 pounds when properly equipped. That's a 20 percent increase versus the outgoing model (which could tow 5,000 pounds when properly equipped). As INFINITI points out, this increase in towing capacity is "enough for a 22-foot Airstream trailer or weekend adventure toys." An all-wheel drive system provides great traction no matter the road conditions.
All about comfort
While we don't have specific numbers on legroom, cargo capacity, and more yet, we know the QX60 will continue to offer comfortable seating across three rows. The 2022 INFINITI QX60 is also primed to deliver a calm and quiet ride.
Extreme testing
Not only has INFINITI tested the new 2022 QX60 extensively over thousands of miles, but the carmaker has done so in all extremes. That includes everything from the brutal heat of Phoenix, Arizona; the "towing gauntlet" that is Davis Dam; the high-altitude roads of Colorado; the freezing temps of Alaska; and the steep hills of San Francisco.
A note on COVID-19
If you choose to test-drive and purchase your 2022 INFINITI QX60 in person at our dealership, please note that we follow strict CDC guidelines, including regular sanitation of common areas and of the vehicle before and after your test drive. We ask that you practice social distancing and wear a mask at all times when visiting our store.
---
Contact Bert Ogden INFINITI in Edinburg, Texas, to learn more about the INFINITI QX60.