Benefits of GAP Insurance | Edinburg, TX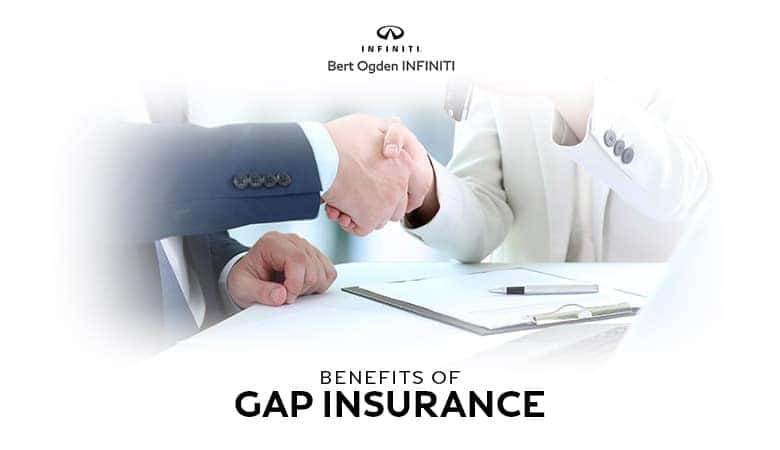 Bert Ogden INFINITI offers a full suite of new INFINITI cars and SUVs, which you can purchase entirely online using our Express Checkout option. If you would rather test drive and purchase a vehicle from our family-owned dealership in person, please note that we follow all COVID-19 protocols as laid out by the CDC, including regular sanitation of common spaces and vehicles, mask requirements, and social distancing.
When you purchase a new INFINITI from our dealership, you may be wondering whether you should get GAP insurance. We highly recommend it when financing, and, in fact, your lender may require it.
What is GAP insurance?
GAP, which stands for Guaranteed Asset Protection, insurance is a safety net for your loan in the event that your vehicle is totaled out. Comprehensive and collision will pay out what your vehicle is worth (factoring in depreciation), but your loan amount is based on the price of the vehicle new. In the event that the totaled out amount is less than what you still owe on the loan, GAP insurance will pay the difference. For example, say your INFINITI is totaled out after a collision, and insurance pays you $20,000, but you still owe $25,000 on the loan; in that event, GAP insurance would give you the additional $5,000 to pay off your lender. That's why most lenders require you to carry GAP insurance until your loan is paid off.
What does GAP insurance cover?
GAP insurance only comes into play when your vehicle is totaled out — and typically it doesn't matter how. It could be due to a collision, damage from weather (like a tornado, hail, flood, fire, or hurricane), theft, or vandalism. However, you will not be able to use GAP insurance to recoup your down payment — only the money you owe to your lender.
---
The finance experts at Bert Ogden INFINITI in Edinburg, Texas, are ready to answer your questions about financing a new INFINITI model. Contact them today!