Buying vs. Leasing | Edinburg, TX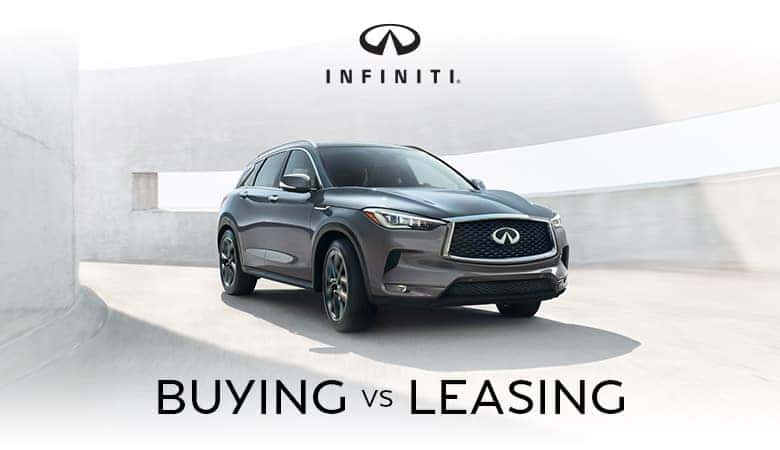 Getting behind the wheel of a new vehicle is a great feeling, but the path to getting there doesn't look the same for everyone. Some people prefer to buy a car, truck, or SUV while others enjoy the benefits that come with leasing. No matter which path you take, you can do it all from home using the Express Checkout service at Bert Ogden INFINITI in Edinburg, Texas, a 100 percent online ordering system for your vehicle purchase or lease. Even better, you can opt for at-home delivery.
Why you might buy
If you want to own the same vehicle for an extended period of time — perhaps a decade or more — buying makes more sense. While you must pay the full price of the vehicle (usually over a set number of years), you can eventually enjoy driving your vehicle without any monthly payments. You also won't have any mileage restrictions or limits on aftermarket accessories, and you'll earn the profits from selling the vehicle privately or to a dealership when the time comes.
Why you might lease
If you want smaller monthly payments and perhaps no down payment, leasing is the way to go. Instead of buying the vehicle, you agree to "rent" it for a set number of years (typically three, four, or five). Instead of paying the full price of the vehicle, you will just pay the difference between what the vehicle is worth now and what it is projected to be worth at the end of the lease. Leasing doesn't only keep your monthly payments down; it also helps you avoid costly repairs since leased vehicles are under warranty for the duration of the lease. Leasing also allows you to change up your vehicle every few years in favor of always having the latest technologies for safety and entertainment, newest engine platforms, and hottest styles.
---
Contact Bert Ogden INFINITI in Edinburg, Texas, to talk with our finance experts to help you determine what option works for you.