Car Battery Maintenance | Edinburg, TX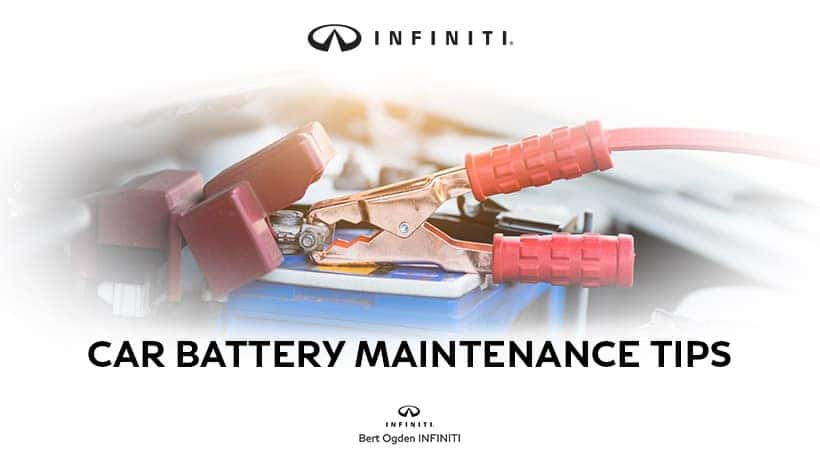 Engines, brakes, wheels — these are all crucial components of our vehicles that we likely think about every time we drive. However, there is a crucial component that we often forget: the battery, which we rely on to start our car.
Keeping up with battery maintenance can help ensure you get the most life out of your battery. Our service technicians will always keep an eye on your battery during routine maintenance. You can schedule an appointment with Bert Ogden INFINITI today; we offer totally contactless service options and follow all CDC guidelines on property, should you need to stay at the dealership during maintenance or battery replacement.
Watch out for these signs of a dying battery
It is better to spot a bad battery — and replace it — before it dies. Being proactive can help keep you from being stranded and potentially needing to depend on the kindness of strangers (and their knowledge of jumpstarting cars). Common signs of a dying battery include a slow crank to your starter motor, as well as dimmer headlamps. If the battery light on your dashboard illuminates, it could be time for a battery replacement.
Conduct this regular battery maintenance
Regular cleaning of all terminals can help prevent corrosion build-up. You should also routinely inspect your battery for loose or cracked connections. In addition, every time you are under the hood, you should wipe dirt and oil residue off the casing of the battery.
If you're not comfortable repairing these yourselves, schedule an appointment with Bert Ogden INFINITI; in addition to fixing these issues, we can also test the battery's strength and electrolyte levels.
Handle with care
If cleaning, repairing, or replacing a battery on your own, follow these safety tips:
Don't: Smoke, drop the battery, or wear jewelry.
Do: Wear gloves, put on eye protection, and wash your hands after handling the battery.
---
For all your maintenance needs, contact Bert Ogden INFINITI in Edinburg, Texas.