Considerations When Buying an INFINITI SUV | Edinburg, TX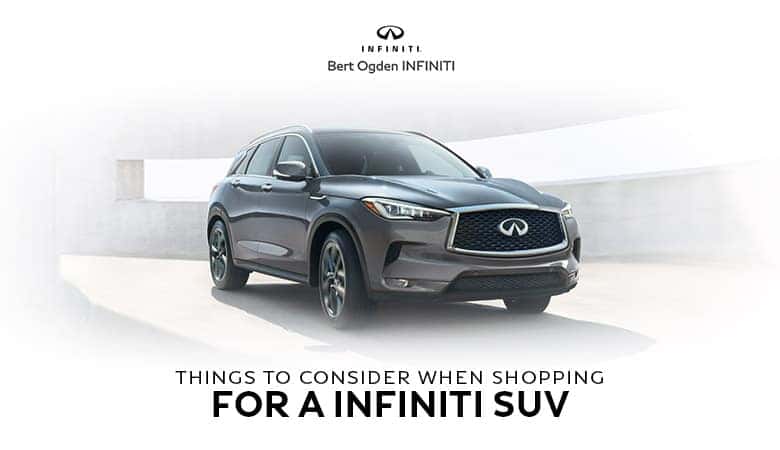 In the market for a new, luxurious crossover or SUV? Bert Ogden INFINITI in Edinburg, Texas, has the complete 2021 crossover and SUV lineup, including the INFINITI QX50, INFINITI QX55, and INFINITI QX80. The remastered INFINITI QX60 will be returning for the 2022 model year. You can visit our dealership in person to test drive these new models; just please bring your mask and be prepared to social distance, as we follow all CDC guidelines at our dealership, including regular cleaning of common areas and deep cleans of vehicles before and after every test drive.
Still figuring out which INFINITI crossover or SUV is right for you? Here are some things to consider:
What size SUV do you need?
If you are looking for an efficient city driver, you will want to go smaller, like the INFINITI QX50 or QX55. The QX60 or QX80 are ideal for larger families or drivers who travel regularly, especially with a boat or trailer in tow.
Crossover or SUV?
Our lineup includes true SUVs, which are desirable for their power and interior space, and modern crossovers, with sleek styling and great convenience and flexibility. Our new QX55 marks the brand's return to the classic crossover coupe.
How much do you want to spend?
We recommend setting your SUV budget early on during the shopping process. This will keep you from researching too much about a vehicle that you ultimately cannot afford. When setting a budget, think not only about monthly price but also about the down payment and the insurance premium that will come with purchasing a new luxury model. Our 2021 QX50 is our most affordable crossover while the 2021 QX80, our largest and most luxurious SUV, is also the most expensive.
What features do you want?
The 2021 lineup of INFINITI crossovers and SUVs includes models with a wide range of features, with differing options for safety, technology, comfort, and convenience. All models are well appointed; choosing the right model for you may come down to a handful of different features.
---
Get a closer look at the 2021 INFINITI lineup of SUVs and crossovers at Bert Ogden INFINITI in Edinburg, Texas.