Exploring National Parks in a New INFINITI | Edinburg, TX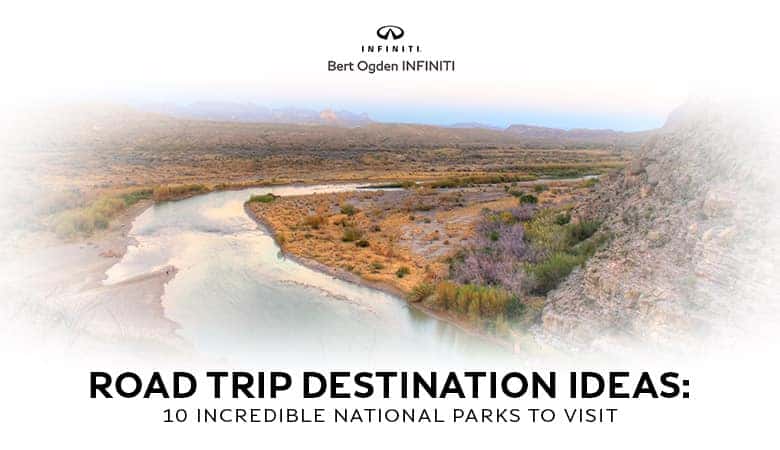 Our SUVs, including the INFINITI QX50, INFINITI QX55, INFINITI QX60, and INFINITI QX80, are designed not just for luxury and comfort but also for adventure. They offer plenty of interior space for camping, fishing, and hiking gear and the true power to haul your boat, RV, or trailer with your favorite toys (like bikes and ATVs).
If you love outdoor adventures, family-owned Bert Ogden INFINITI in Edinburg, Texas, highly recommends checking out some of these national parks for your next summer road trip:
Guadalupe Mountains National Park and Big Bend National Park
Start with what's in your own backyard. Texas is home to two of our nation's 63 (and counting!) national parks. The drive to Big Bend from here in Edinburg is still quite the trek at 10 hours (everything is bigger in Texas, after all). From there, it's a 5-hour drive to the Guadalupe Mountains.
Yellowstone National Park and Grand Teton National Park
No national park is as iconic as Yellowstone, where the buffalo roam and Old Faithful can always be counted on. Close by is the beautiful Grand Teton National Park; both make for a great vacation.
Olympic National Park, Mount Rainier National Park, and North Cascades National Park
The Olympics are truly beautiful, with rugged rocky coastlines, towering mountains, and a rainforest. Nearby are Mount Rainier and North Cascades, which are also not to be missed while you're up in Washington state.
Acadia National Park and Zion National Park
If you plan to see all 63 national parks, why not start alphabetically at Acadia up in coastal Maine? Or start at the other end of the alphabet and head to Zion in Utah; while there, you can check out the other four parks that round out Utah's Mighty 5: Canyonlands National Park, Bryce Canyon National Park, Capitol Reef National Park, and Arches National Park.
Glacier National Park
The border to Canada remains closed, but you can get a taste of the Canadian Rockies on our side by visiting Glacier National Park in Montana and driving up Going-to-the-Sun Road.
---
A new INFINITI model will make every road trip the best ever. Check out the 2021 INFINITI lineup at Bert Ogden INFINITI in Edinburg, Texas.