Guide To Roof Racks | Edinburg, TX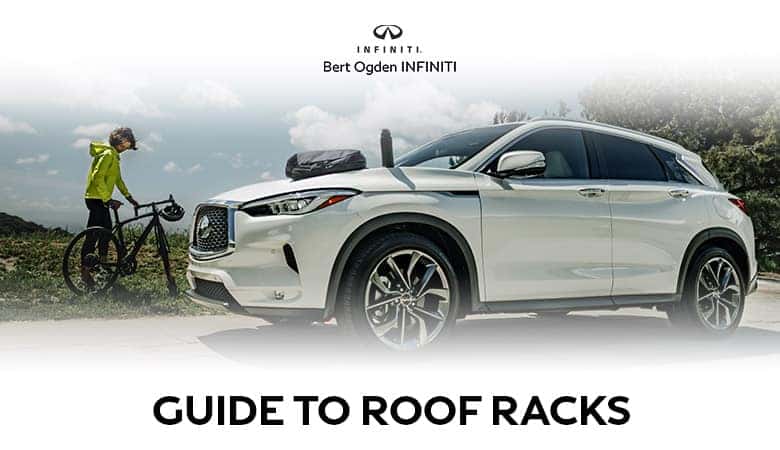 Roof racks are often sold on SUVs as an optional feature, or you can purchase them as an aftermarket accessory. Whether you are thinking about a new INFINITI SUV with roof racks preinstalled from Bert Ogden INFINITI or are just considering ordering roof racks to install on the SUV you already drive, you've come to the right place.
Our handy guide serves as an introduction to roof racks.
What Are Roof Racks?
Roof racks run the length of the top of your vehicle. You can use them to affix cargo or equipment to the top of your car for easy transportation. You may need specialty crossbars depending on the type of equipment or cargo you will be transporting.
What Do You Transport With Roof Racks?
You can use roof racks for a variety of gear and purposes. Most commonly people use roof racks and cross bars to transport kayaks, canoes, surfboards, paddleboards, and other lightweight aquatic transportation; bicycles; cargo boxes or baskets; skis, snowboards, or other winter sporting equipment; or camping gear, like a rooftop tent (to be used when stationary).
What To Consider When Purchasing Roof Racks
If your vehicle does not currently have roof racks and you are buying them aftermarket, think about the following:
Do any companies offer free installation? For a job as complicated as this, it's better left to the professionals.
What do the reviews say about loading and unloading? If you're not particularly tall or have trouble lifting items up above your head, you will want roof racks that make it easier to load and unload.
Is it time for a new vehicle? If you are planning to purchase a new vehicle soon, don't waste your money on roof racks for your current daily driver. Instead, look for a new model that comes with roof racks standard, as an upgrade, or as part of a package.
---
Learn more about roof racks for your INFINITI model or upgrade to a new INFINITI model at Bert Ogden INFINITI in Edinburg, Texas.