How To Choose Between Car Trims | Edinburg, TX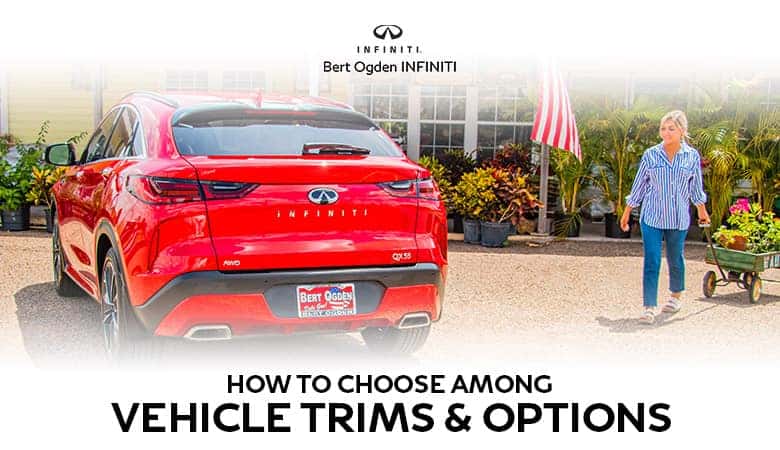 When you buy a new car or SUV here at Bert Ogden INFINITI in Edinburg, Texas, you will select from various trim levels. Trims, also commonly called grades, indicate a combination of features for a specific model. The lower the trim level, the more affordable it will be, but the fewer options it will have.
The Hierarchy Of A Car
When you purchase a new car, pay attention to four things:
The year is the model year of the vehicle. Often, automakers will release next year's model midway through the current year. The make is the name of the automaker. In our case, we sell INFINITI vehicles. Model is the specific vehicle from that automaker, the QX80 or the Q50.
Finally, trim is the specific type of model. For example, you can get varying levels of the QX80, including Luxe, Luxe 4WD, Premium Select, Premium Select 4WD, Sensory, and Sensory 4WD.
Obviously the 4WD in half of those indicate models with 4WD. But Luxe, Premium Select, and Sensory indicate different levels of features.
So Which Trim Is Right For You?
When planning to purchase a new car, do two things:
Set a hard limit on how much you are willing to spend.
Make a list of must-have features, like a certain number of car speakers, specific safety technologies, or a towing capacity of 5,000 pounds or more. These should be features that you absolutely need out of your new vehicle.
Then look at the trims for the model that you're most interested in. Which trims are within your budget? And among those, which have your must-have features?
If more than one has the features you must have, you could easily go with the cheaper option. Or consider your wants: Does the higher trim level have ventilated seating and that stunning color you love? Is it in your budget? Then go for it!
---
Check out the current INFINITI lineup at Bert Ogden INFINITI in Edinburg, Texas.