INFINITI Model Research | Edinburg, TX
Purchasing a new car is a big decision. Not only do you need to consider cost and capabilities but also safety, technology, and your lifestyle. Our experts here at Bert Ogden INFINITI in Edinburg can help you narrow down the field. Browse our research below to find which INFINITI vehicle is right for you – although, with stylish upgrades and impressive safety technologies for car and SUV models alike, you can't go wrong with whichever you choose.
INFINITI Q50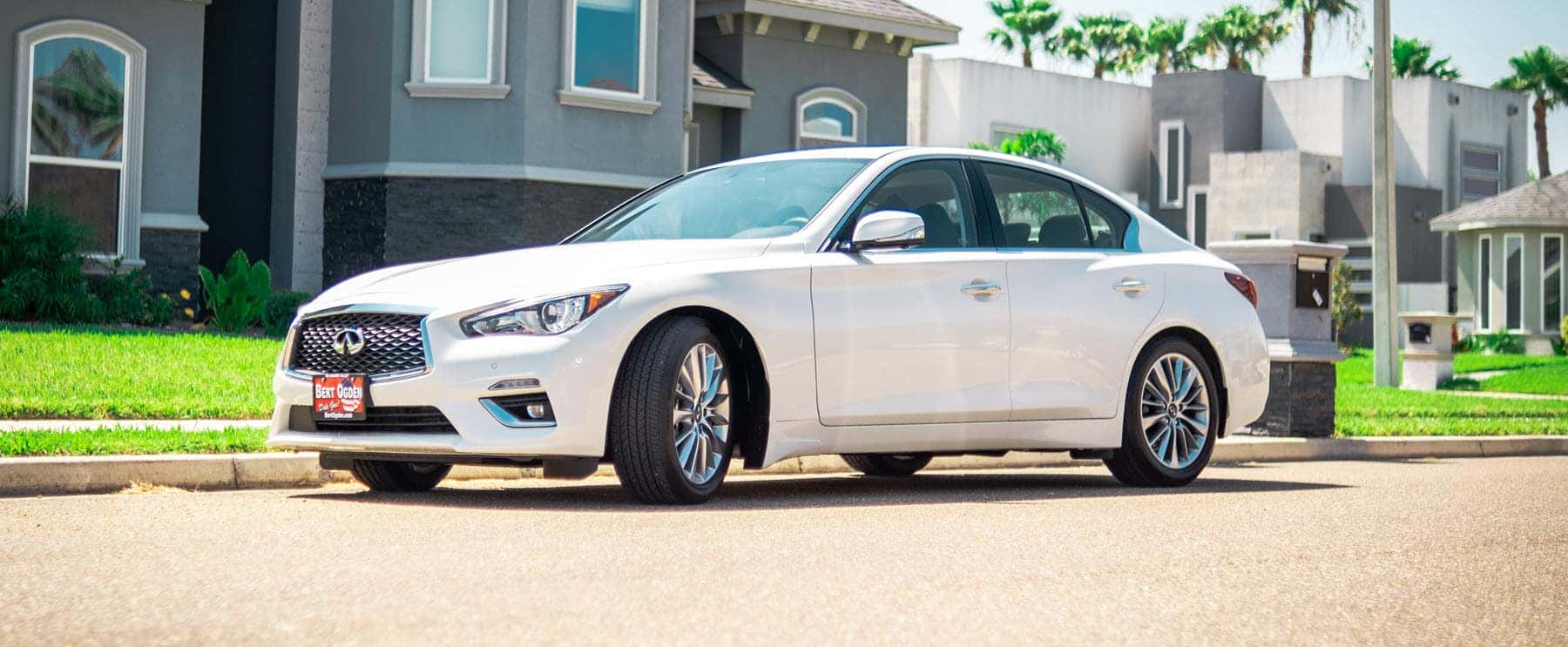 The 2020 INFINITI Q50 luxury sedan offers thrilling performance, attractive looks, advanced safety technology, and a well-appointed interior with plenty of comfort, entertainment, and convenience technologies. Midsize luxury cars like the Q50 are in high demand, but it stacks up well against its competition and ultimately comes out on top.
INFINITI Q60

The 2020 INFINITI Q60 is an impressive luxury coupe that delights with its dynamic driving experience, athletic styling, luxurious interior, and leading technology. When it goes head to head with the competition — like the 2020 Audi A5, 2020 Mercedes-Benz C300, 2020 BMW 430i, and 2020 Lexus RC300 — the INFINITI Q60 establishes itself as the segment's very best vehicle.
INFINITI QX50

The 2020 INFINITI QX50 is a compact SUV that boasts a well-crafted interior, modern connectivity technologies, and advanced safety systems. All these elements work together to create the ideal vehicle for those who prioritize safety as well as being on the cutting-edge of design. Space inside of the INFINITI QX50 is ample for gear, bags, and equipment yet the outside silhouette makes maneuvering in tight spaces an easy task.
INFINITI QX60

Don't settle for less than what you deserve. The new QX60 is what a luxury crossover should look like, from its bold and dynamic curb appeal to its sumptuous and thought-out interior. When you sit in the INFINITI QX60, you'll feel like you're in your home away from home. Any other car is just that: any other car.
INFINITI QX80

No matter your walk of life, the 2020 INFINITI QX80 will meet – and exceed – your needs with its pure power under the hood, athletic exterior, well-appointed interior, and, of course, its advanced technology.
---
Visit Bert Ogden INFINITI in Edinburg today to get behind the wheel of these stylish, safe, and fun-to-drive INFINITI models.