QX60 vs MDX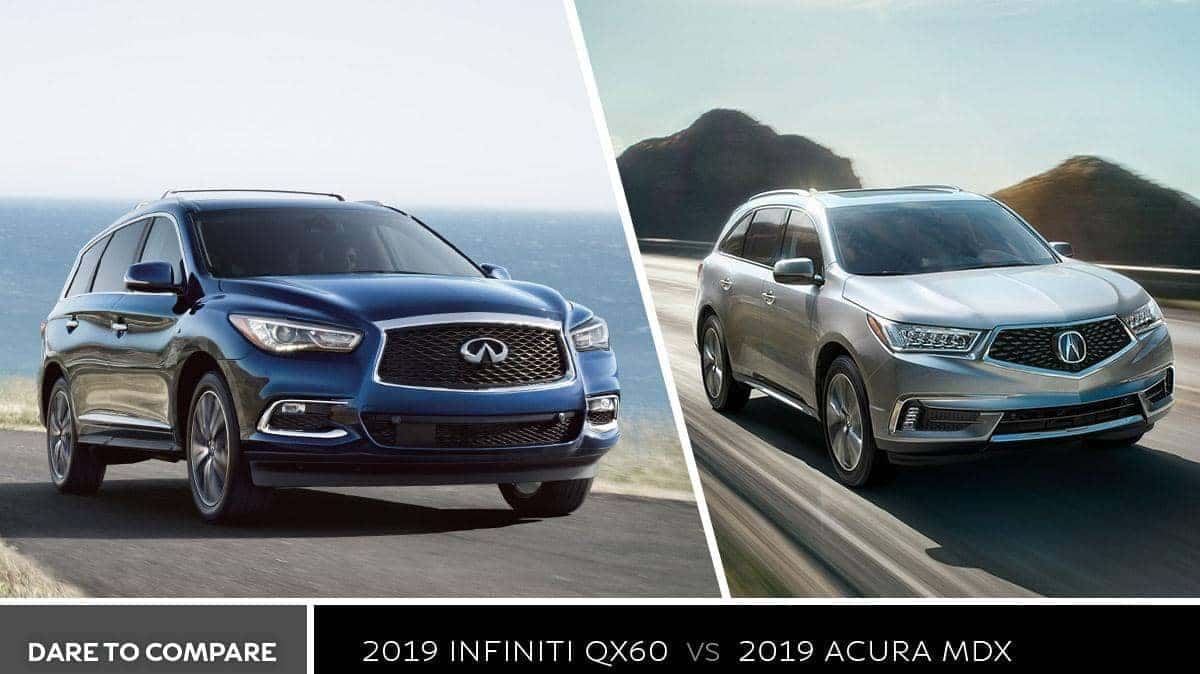 Three-row luxury SUVs are a true status symbol. They boast incredible interior space, the most advanced safety features in the industry, all-out power under the hood, and sophisticated styling with features that cater to comfort and convenience. Two segment standouts are the 2019 INFINITI QX60 and the 2019 Acura MDX, but which is the superior vehicle? 
 
The 2019 INFINITI QX60 has the upper hand in several ways. 
PRICE
The base models of the new 2019 QX60 and the 2019 MDX are priced very similarly, but the starting MSRP of the QX60 ($44,000) is $300 less than that of the MDX ($44,300). And while $300 may seem inconsequential, it is truly a significant amount when you are purchasing a luxury SUV. Every dollar saved helps.
INTERIOR SPACE
The 2019 INFINITI QX60 and 2019 Acura MDX are similarly sized as well, but again, the QX60 owns a slight advantage. In total, the 2019 QX60 boasts up to 133 cubic feet of passenger volume, compared to 132.7 in the 2019 MDX. That translates to more front legroom (42.2 inches compared to 41.4), second-row legroom (41.7 inches compared to 38.5) and third-row legroom (30.8 inches compared to 28.1).
BASE ENGINE PERFORMANCE
Despite the base model being cheaper, the 2019 INFINITI QX60's standard engine is more powerful than the engine in the 2019 Acura MDX. The QX60 is powered by a 3.5-liter V6 paired to an electronically controlled Continuously Variable Transmission (CVT), which cranks out 295 horsepower and 270 lb-ft of torque. With FWD, this engine enables the QX60 to tow up to 5,000 pounds. The MDX's 3.5-liter aluminum-alloy V6 is matched with a nine-speed automatic transmission with Sequential SportShift paddle shifters but only lays down 290 horsepower and 267 lb-ft of torque. With FWD, this engine enables the MDX to tow up to just 3,500 pounds.
SAFETY
Hands down, the 2019 INFINITI QX60 has more advanced safety features than the 2019 Acura MDX. According to INFINITI, the QX60 has 14 advanced safety features, while the MDX offers just eight. Blind Spot Intervention® is one of the advanced technologies that the 2019 QX60 offers that the 2019 MDX does not.
Stop by Bert Ogden INFINITI to test-drive the INFINITI QX60 for yourself!