Serving Edinburg, TX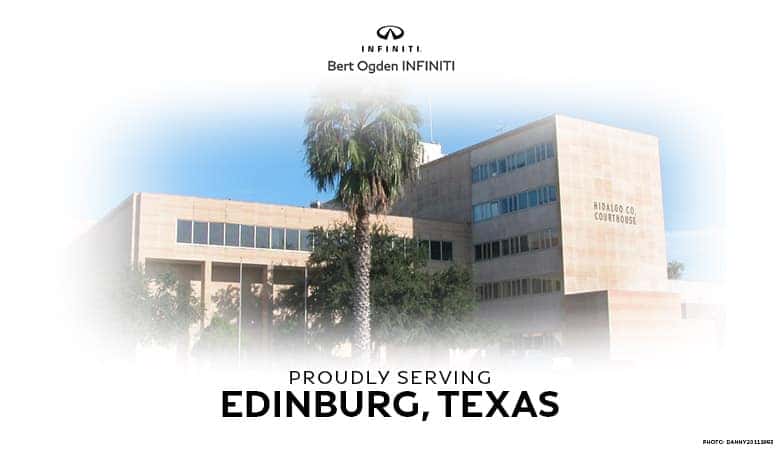 Edinburg, Texas, is a thriving community of around 85,000 people. Serving as the seat of Hidalgo County, Edinburg is the place to be if you're looking to experience a vibrant cultural scene, growing businesses, and plenty of entertainment options.
Ever since the town was founded back in 1908, Edinburg has been known for its civic pride, high quality of life, and excellent educational opportunities. Our hometown has been one of the few locales to be named a three-time All-America City by the National Civic League. Want to see what all of the buzz is about? Load your family into your INFINITI and hit the road to experience these local attractions.
Museum of South Texas History
The Museum of South Texas History offers educational fun for the whole family. Located in downtown Edinburg, this museum was built within the former Hidalgo County Jail, which dates back to 1910. Spanning an entire city block, this museum documents Edinburg's history all the way back to prehistoric times. Its exhibits feature fossils, Native American artifacts, relics from the frontier days, and even displays from the area's 20th-century history. To get the most out of your visit, check out the museum's website for downloadable self-guided tour notes.
Lake Edinburg
Hitch your boat up to your INFINITI SUV and get ready for a fun day out on the lake. At this 106-acre lake, you can enjoy catching largemouth bass, channel catfish, and blue catfish.
Edinburg Scenic Wetlands
This 40-acre natural wonder is located in the heart of Edinburg's urban center. Restored from farmland, this spectacular wildlife habitat is a great place to see the Lone Star State's most stunning flora and fauna. You'll have the chance to glimpse butterflies, native wildflowers, colorful songbirds, and over a dozen species of waterfowl as you traverse the 2.5-mile walking trail. Stop by the interpretive center to learn more about the wildlife in the park or sign up for a guided tour. You can also visit the gift shop to take home a field guide, souvenir, or accessory that helps support the preserve's mission.
South Texas Motorcycle Museum
Since 2009, the South Texas Motorcycle Museum has been a showcase of rare bikes and the rich culture surrounding the motorcycle. Here, you'll be able to look back at a century of biking history and enjoy an in-depth look at the design and engineering of these two-wheeled wonders.
Edinburg Municipal Park
Get out and play at Edinburg Municipal Park, a 90-acre multi-purpose recreation area. Here, you'll find softball, baseball, and soccer fields, a full playground, picnic areas, and a 1.5-mile walking trail. If that wasn't enough, there's even a rollerblading trail, an ATB bike trail, an equestrian trail, and a mile-long nature trail. Edinburg Municipal Park also offers two lakes, which provide opportunities for fishing and boating.
Edinburg Splash Pad at Freddy Gonzalez Memorial Park
Looking for a family-friendly activity that can help you beat the heat without breaking your budget? The Edinburg Splash Pad at Freddy Gonzalez Memorial Park offers a 9-acre waterpark complete with ground sprayers, sprinkler hoops, and a bucket tree where kids can cut loose for some wet and wild fun. Grown-ups will enjoy relaxing on the park's many benches, chatting under the picnic shelters, or going for a stroll on the ¾-mile-long walking trail.
---
At Bert Ogden INFINITI, we're proud to be a part of the Edinburg community. Whether you're flying solo and in the market for an upscale commuter car, or looking for a luxurious family SUV, our friendly sales staff will be happy to help you find the perfect vehicle for your lifestyle. Visit us today and see why we're a staple of Edinburg.