Winter Maintenance Guide | Edinburg, TX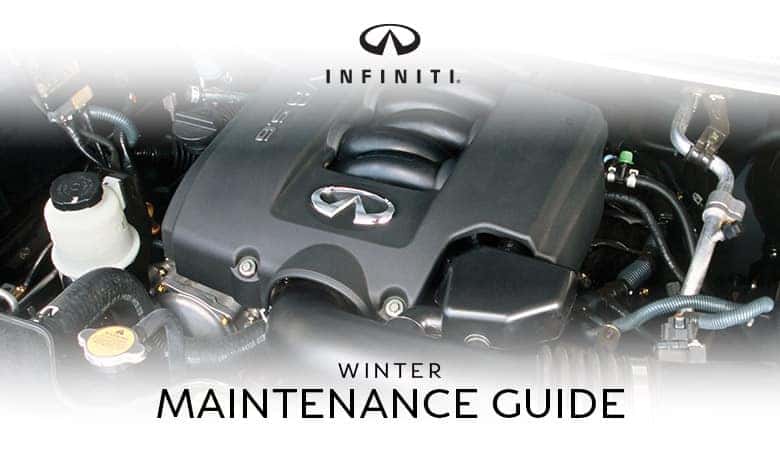 We may see little snow during the winter here in Edinburg, Texas, but it is still crucial to perform winter maintenance on your vehicle. Your car needs to be prepared for colder temperatures, rain, unexpected snow, and trips to northern states. The number one way to winterize your luxury car is to bring it to a professional, like the technicians in the Bert Ogden INFINITI service department, for a seasonal oil change, tire rotation, and thorough check, but you can also DIY some of the important winterization tasks using these maintenance tips:
Check your tire pressure regularly
Tire pressure drops with the temperature. Underinflated tires can reduce fuel economy and can be more prone to skidding in icy conditions — and more likely to pop. Check your tire pressure at least once a week and refill as necessary.
Test your lights
It gets dark earlier in the winter, so you will be doing more driving in the dark. Make sure all your lights are working properly. Your checklist should include headlights, fog lights, high beams, brake lights, tail lights, and turn signals.
Replace your windshield wipers
Be prepared for a wet winter by replacing windshield wipers that leave streaks. If you suspect snow or freezing rain and must park outside, lift your wiper blades off the windshield to prevent them getting frozen to the glass. Replace your windshield washer fluid with a solution that can survive freezing temperatures.
Keep your gas tank half-full at all times
You are more prone to emergency situations leaving you stranded during winter months. In such situations, it is important to have enough gas to keep the heater running until roadside assistance arrives.
Pack an emergency kit
Likewise, it is crucial to have an emergency car kit at all times, but especially in the winter. Pack bottled waters, a flashlight, flares, a first-aid kit, blankets, nonperishable snacks, a shovel, a battery-powered radio, and a power bank for charging smartphones.
---
For all your winter maintenance needs, contact the service experts at Bert Ogden INFINITI in Edinburg, Texas.