A Guide To Dashboard Warning Lights | Edinburg, TX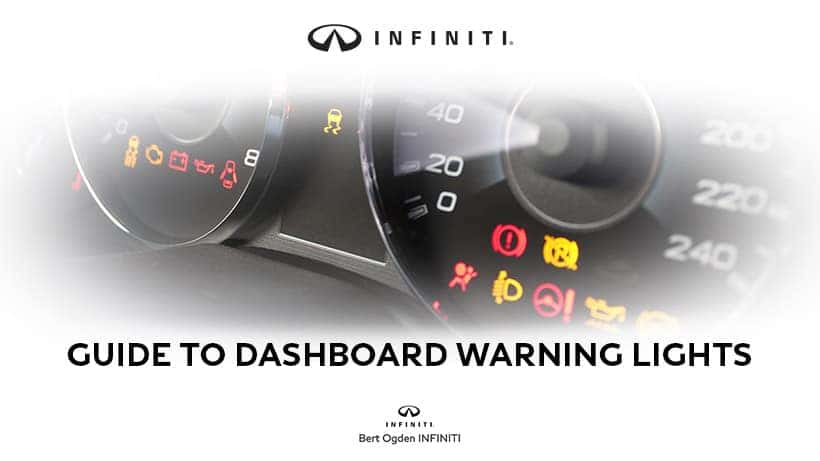 Unless you drive K.I.T.T. from Knight Rider, your car's preferred way of communicating with you is via dashboard lights. Dashboard lights can indicate when a system is engaged, when something has been left open or on, or when something is going wrong. In the event that a light indicates trouble with your vehicle, you should arrange to bring it to the service center at Bert Ogden INFINITI in Edinburg, Texas, for repair.
Please note: the service department of Bert Ogden INFINITI offers several contactless maintenance options to help stop the spread of COVID-19, including key drop-off, curbside service and at-home delivery, and car loaners and shuttles. If you need to wait at our dealership while your vehicle is being worked on, please know that we are following all CDC guidelines, including constant sanitation of high-traffic areas, mask requirements, and social distancing practices.
Here are some of the most common dashboard warning lights you may encounter:
Check engine light
This light indicates some of the most troublesome issues — but unfortunately, without further testing, you won't know what specifically is wrong. If your check engine light illuminates, it could be something as harmless as a loose gas cap or something as detrimental as a misfiring engine. Either way, you should bring it in to a mechanic immediately. If the light is flashing, do not drive your vehicle; get out and arrange for a tow.
Tire pressure light
If you have a tire pressure monitoring system, this light will indicate if one of your tires has low pressure. If after filling your tire, this light comes on again, you likely have a leaky tire. Our team can patch this tire for you or replace it if necessary.
Brake system light
Just as concerning as the check engine light, the brake system light indicates some kind of issue with your brake components — or it could just mean your hydraulic fluid needs a top-off. Bring it in to Bert Ogden INFINITI for inspection.
Battery light
This light, resembling a winking robot, could mean trouble with your battery, alternator, or charging system, depending on when and how it lights up. Visit a mechanic right away if this light appears.
---
Contact Bert Ogden INFINITI in Edinburg, Texas, for all your auto needs.