Guide to Buying Your First Car | Edinburg, TX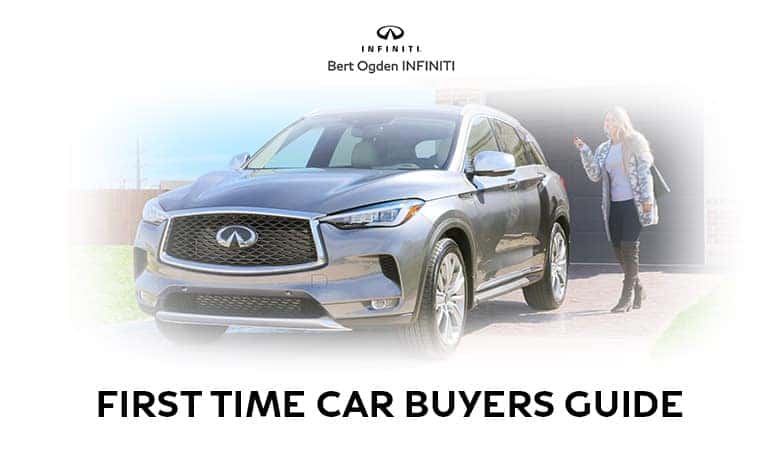 If you are preparing to buy your first car in Edinburg, Texas, congratulations! We hope you will consider a new or used vehicle at Bert Ogden INFINITI.
Regardless of whether you buy from us, a sister Bert Ogden store, or somewhere else entirely, we know the experience can be overwhelming. That is why we have put together this first-time car-buying guide. We hope it makes the process a little smoother and less stressful.
Start with your budget
Before speaking to lenders or test-driving any vehicles, figure out how much you can — and are willing to — spend. Keep in mind you will need to have saved up money for a down payment, and then you will need to determine what kind of monthly payment you are comfortable making. Don't forget to factor in costs that will be new to you, like gas, routine maintenance, and insurance.
With this, you should have a ballpark estimate of the top price you are able to pay for a new vehicle. This can help keep you from looking at vehicles that are out of your price range.
Get pre-approved for a loan
If you aren't leasing or paying cash, you will need to guarantee financing. You can start by talking with your own bank to see what kind of loan you can get (the lower the APR, the better). You should also check with other banks and even online offers. The finance department at Bert Ogden INFINITI can also work with multiple lenders to find the best loan available to you.
If you are having trouble getting a loan due to a poor credit score, it may be better to focus on improving your score over the next six to 12 months and then reapplying for a loan.
Narrow your focus
Once you know how much you can spend and how much you are approved for, determine the type of vehicle that is right for you. Do you need a massive SUV, like the INFINITI QX80, whether for hauling a boat or trailer or just to accommodate your large family? Perhaps fuel economy is important to you, so you want a smaller INFINITI sedan. Consider how you will drive the vehicle and features — safety technology, infotainment systems, comfort and convenience — that are must-haves for you.
Research online
Once you have decided on a few vehicles that fulfill your needs, read online reviews. If shopping used, you can find a plethora of reviews that show how the vehicle has performed over the years, which can be immensely helpful. You should also get a vehicle history report if buying used.
Go for a test drive
Now comes the fun part. If you have a handful of vehicles that have made the final cut, go out for a day and test drive. Don't feel pressured to make a decision on the spot. You can take your time and compare your experiences. While test-driving a new car, pay attention to seat comfort, drivability, and ease of technology. If shopping used, you should also do a thorough examination for defects; test-drive to a trusted mechanic to get a third-party opinion.
Have insurance
You must have insurance to drive a vehicle off the lot. That means you need to arrange your insurance plan before you buy the car.
Keep up with routine maintenance
Congrats, you're a new car owner. Now you must stay on top of all regular maintenance, like oil changes, tire rotations, spark plug replacements, etc., to help ensure your vehicle runs smoothly, safely, and efficiently over the next several years.
---
The finance experts at Bert Ogden INFINITI in Edinburg, Texas, are ready to answer your questions about your first car purchase. Get a closer look at the impressive INFINITI lineup today!