Why Are My Brake Lights Always On | Edinburg, TX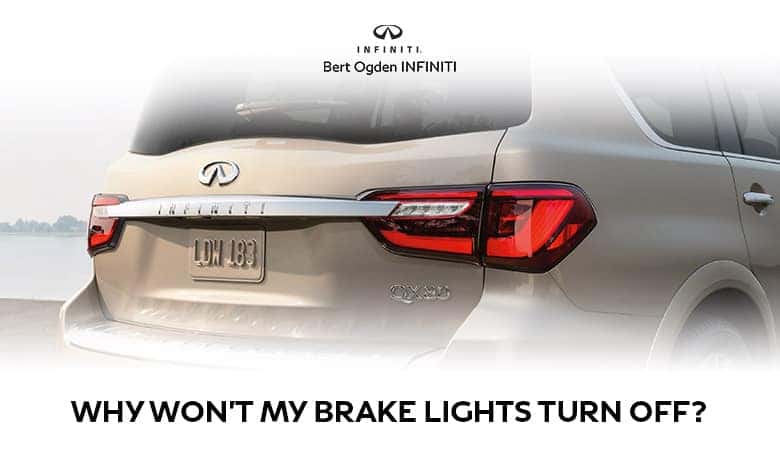 Brake lights on your INFINITI model signal to other drivers when you are slowing down, whether gradually or quickly. Without them, drivers behind you would be at risk of rear-ending you, especially if you ever need to slam on your brakes.
But if something is wrong with your brake lights, they could either not work at all (typically when bulbs have burnt out) or always be on. Both are dangerous scenarios.
If your brake lights won't turn off and you just want an expert to help you fix it, bring your car in to Bert Ogden INFINITI in Edinburg, Texas. Our certified techs can get to the root of the problem for you and quickly fix it. We highly recommend having the vehicle towed to our service bay, however; driving with brake lights that are always on is dangerous.
But you may be able to troubleshoot the issue at home. Here are some common reasons your brake lights will not turn off:
A worn-off pedal stop. Take a look at your brake and accelerator pedals. You should see pedal stops that keep the pedals from being pushed down too far. Eventually, these can wear off. If your brake pedal's stop has worn off, this is likely the culprit. Order a replacement part at Bert Ogden INFINITI or online and simply replace.
A stuck brake pedal. This is an easy one to fix and probably the most common cause of brake lights that won't turn off. If your brake pedal is stuck or even slightly pressed, the light might always be on. Debris on the car floor may cause this to happen. Try pressing down on the brakes hard a few times, then releasing. This will often fix the issue.
A damaged switch. This is a difficult issue to fix at home, as it is related to your car's electrical components. Leave this to the certified mechanics at Bert Ogden INFINITI.
---
Contact the service department at Bert Ogden INFINITI in Edinburg, Texas, for all your vehicle maintenance needs.