Guide to Leasing a New INFINITI | Edinburg, TX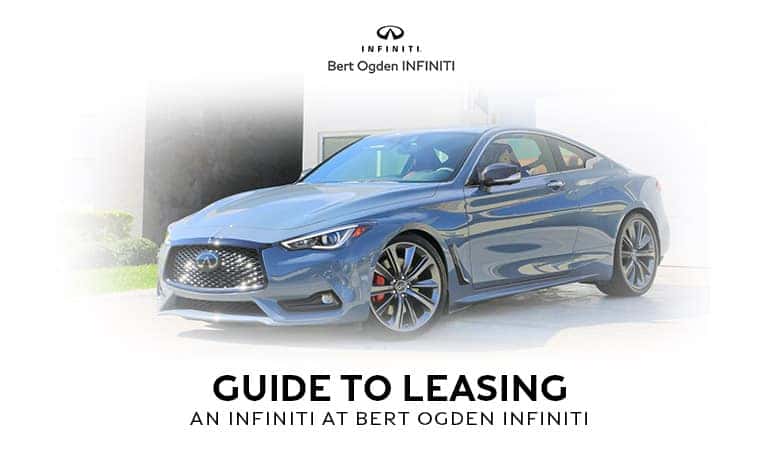 When you drive home in a new vehicle from Bert Ogden INFINITI in Edinburg, Texas, you have two options: You can buy it or lease it. We traditionally envision ourselves financing and owning our cars, and it's certainly the more popular, traditional route. But for many, leasing makes more sense, for both lifestyles and budgets.
If you are new to leasing, use this guide to help determine if it's the right option for you and what you should expect when leasing an INFINITI in Edinburg here at Bert Ogden INFINITI.
Leasing defined
Think of leasing a vehicle much like you might rent an apartment or house. Rather than buy the vehicle and pay full price, you instead pay for the duration of your "rental" of the vehicle. Typically, lease durations range from three to five years. That means, instead of paying the full price of the vehicle, you will only pay the difference between what the vehicle is worth new and what it is expected to be valued at by the end of the lease.
When your lease term ends, you simply return it to Bert Ogden INFINITI. Then you are free to lease and drive off in another new vehicle that same day.
Why leasing may be right for you
Because leasing means you won't pay the entire sticker price for a vehicle, it means you can get lower monthly payments. You may not even have to put any money down at signing. Keeping monthly bills lower is the number-one reason to lease.
The vehicle is under warranty for the duration of your lease, so you don't have to worry about costly repairs. Many lease deals may even include free or discounted routine maintenance. Insurance also tends to be cheaper for leased vehicles.
Also, if leasing, you will be trading in for new models every few years. That means you will have easy access to the latest safety technologies, exterior style trends, and infotainment features all the time.
Do note: You cannot sell the leased vehicle at the end of the lease (though you can buy it), and there are strict mileage limits (typically 12,000 to 15,000 a year); if you exceed these, you will pay a small fee per mile over the limit. Don't lease if you intend to take frequent, long road trips.
If this is your first time leasing
If leasing is new to you, here are a few tips that will make the experience more worthwhile:
Always carry the right insurance. When financing or leasing, lenders typically require that you carry GAP insurance in addition to state-mandated insurance. You must have the proper coverage, even though you don't own the vehicle.
Keep up with routine maintenance. Your lease agreement likely stipulates that you must keep up with routine maintenance. Skipping out on such maintenance can lead to major damage to the vehicle, which will not be covered by the warranty.
Remember to watch those miles. As stated, mileage restrictions are not negotiable. If you want to err on the side of caution, go with a lease agreement that allows slightly higher annual miles so you don't end up owing at the end of the term.
Don't put too much down. Depending on the dealer and your credit, you may not have to put any money down. But if you want to put some down to keep your monthly payment low, we recommend putting down no more than $2,000. That's typically what the financial experts advise. Why? If you total the car early on, GAP insurance will only refund you what you still owe; you'll be out your initial down payment.
---
For more information about leasing a new INFINITI model, contact Bert Ogden INFINITI in Edinburg, Texas.