Tips for a Successful Road Trip | Edinburg, TX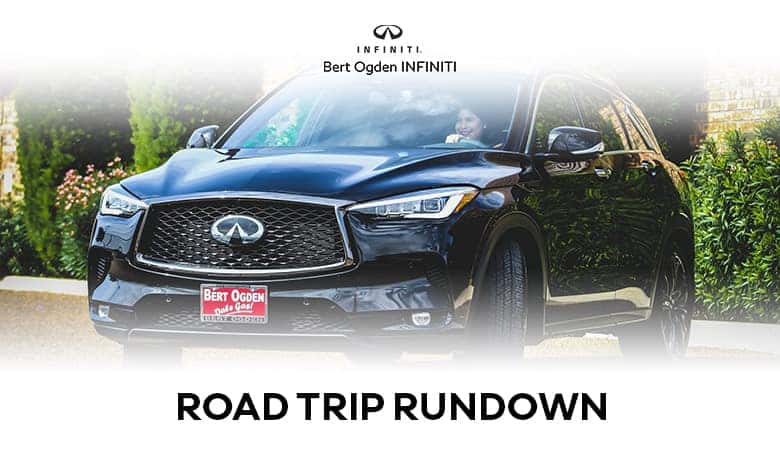 The great American road trip is one of the best ways to make memories with family and friends. No matter what your ultimate destination is, when you head out from Edinburg, Texas, you can be sure that adventure and laughter await.
That is, if you properly prepare to make the most out of it. Here are our top tips for a successful road trip.
Take care of maintenance now
Most vehicles need routine maintenance every 5,000 to 7,500 miles. If you're anywhere near the next maintenance milestone and will be surpassing that milestone during your road trip, schedule your oil change, tire rotation, etc. now at Bert Ogden INFINITI in Edinburg, Texas. If you will be putting even more miles on your vehicle during the trip, you will need to arrange for maintenance while on the open road.
Another benefit of routine service before you go: Our certified technicians will perform a thorough inspection of your vehicle and fix any issues that might otherwise cause you problems on your trip.
Pack smart
Save on space in your INFINITI SUV by reducing the amount of luggage you bring. Roll clothes instead of folding to use space more efficiently inside luggage, and if you will be gone for more than a week, plan on doing laundry during the trip rather than packing something clean for each day.
Pack healthy
Even more importantly, pack healthy snacks. By filling a cooler with bottled water, fruits, and veggies, and bringing along filling snacks like trail mix and protein bars, you can help avoid the temptation of gas station snacks and fast food. You can also pack stuff to make sandwiches to save money. Just don't forget paper plates, paper towels, plastic utensils, and trash bags. Or, to be eco-friendly, bring reusable silverware or at least biodegradable utensils. And have an extra clear trash bag for recycling.
Plan some games
This trip is about making memories — not just at the destination, but on the go, too. Rather than having everyone's nose stuck in their own screens, try playing games together. You can tell stories word by word or sentence by sentence, or try playing a classic like I Spy, 20 Questions, or Would You Rather.
Road trip-specific games include license plate bingo and the alphabet game.
Protect your pets
Bringing your pets along for the road trip is a wonderful idea, as long as you prioritize their safety. Cats and small dogs should ride in a travel crate that is strapped in. Larger dogs can be attached to seatbelts with specialty harnesses.
Dogs should never ride up front or in the bed of a pickup truck. For their safety, you also should not let them hang their heads out of windows. If they suffer from arthritis or are small, keep them from jumping in and out of the car on their own.
Stop often for water and potty breaks.
Keep it budget-friendly
A family vacation doesn't have to break the bank. Here are a few things you can do to help keep your road trip within budget:
Go camping. Campsites are significantly cheaper than hotels, and they can also be so much more adventurous.
Go hiking. Why pay money for amusement parks and museums when nature is calling you to explore? Many hiking trails are free; even some National Parks are 100 percent free as well.
Don't travel at peak season. During the summer or other times that kids are out of school, prices go up — from gas to lodging to food. Avoid the high prices by going during the off season.
---
Get your INFINITI model road trip ready with a service appointment at Bert Ogden INFINITI in Edinburg, Texas.